People
We recognize that our success, reputation and future opportunities are dependent upon:
The people we assign to our customers' work,
The quality and value they produce, and
How we support them.
GreenWood is a direct hire open shop contractor using its own employees to manage and execute virtually all work, subcontracting only tasks that require highly specialized personnel and/or equipment, or very short duration in-and-out tasks.
"From the very first meeting, GreenWood demonstrated they had the expertise, that they understood our needs and were willing to be flexible in structuring operations in a way that was best for our company and culture."
–Director, Fujifilm Manufacturing U.S.A.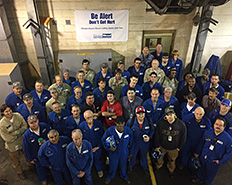 At GreenWood, we recognize the difference between skills required for maintenance, construction, and operations/production work. We utilize Maintenance Mechanics/Technicians, Construction Craft Workers, and Operations/Production personnel depending upon the scope of work. Our personnel are highly skilled, experienced and have been trained leveraging NCCER curriculum. Because of our flexibility, a project work force can be adjusted to meet skill sets and schedule requirements as needed for the changing circumstances of the customer.