About Us
Helping customers solve problems and fulfill needs in operating, maintaining, improving and expanding their facility is GreenWood's mission. Led by an experienced, highly competent management team and on-site work force, we have developed a successful record of providing these services in a cost-effective manner for a growing list of valued customers for 20 years. Read how these customers have been successful with GreenWood.
"From the very first meeting, GreenWood demonstrated they had the expertise, that they understood our needs and were willing to be flexible in structuring operations in a way that was best for our company and culture."
– Director, Fujifilm Manufacturing U.S.A.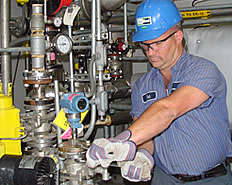 As a privately owned company, we are able to quickly respond to customers' needs without outside influences. This flexibility is demonstrated by the responsiveness and dedication of both management and workers; by a strong sense of ownership of the customer's plant/facility by our employees; and by GreenWood's proven ability to provide the absolute best in uninterrupted professional services.
Safety and quality are always our priorities. And, customer satisfaction is our ongoing focus. That's what you can expect from GreenWood.