GreenWood Earns BB&T Lighthouse Beam Safety Award
GreenWood, Inc., an integrated operations, maintenance and construction solutions provider, was recently presented the prestigious Lighthouse Beam Safety Award by BB&T Insurance Services. The award recognizes excellence in safety performance and is designed to help companies emphasize safety and health throughout their organizations. GreenWood's steadfast commitment to employee and customer safety with an ongoing goal of zero incidents, accidents and injuries throughout the work place led to this recognition.
Criteria for the award includes a client's workers' compensation policy loss ratio, workers' compensation experience modification (EMR), and BLS/DART/OSHA recordable incident rate. BB&T Insurance Services recognizes only those companies with outstanding overall safety performance and awards those who have commendable, outstanding, and excellent performance.
"GreenWood, Inc. sets high standards for safety performance and we're proud to recognize them with this safety award," says Warren Blanchard, BB&T Insurance Services. "They are consistent in their commitment to safety which is instilled in their workplace culture. It is our pleasure to support GreenWood with their accident prevention and claim management initiatives, and we gladly recognize them for these extraordinary results."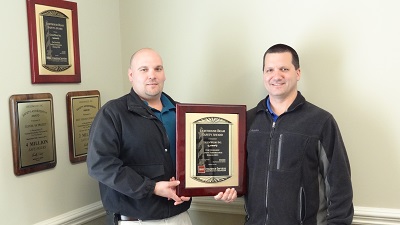 Mike Simmons, Corporate Safety Director for GreenWood adds, "We are honored to earn this award from BB&T and it is a privilege to have received it every year since the initiation of the program. It's a direct result of our employees placing safety first as the foundation for all our project work at GreenWood. By maintaining open communications with our teams to reinforce safety standards, we are able to consistently perform work in the safest manner possible for our customers."